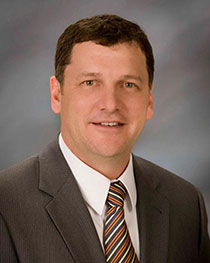 Superior National Bank has hired Michael Hauswirth to the position of Executive Vice President – Chief Operating Officer. The former Chief Executive Officer at Aspirus Keweenaw and Ontonagon is returning to his roots in banking. He began his new role on Monday, July 23.
Hauswirth spent the last 11 years working for Aspirus Keweenaw, starting as the Chief Operating Officer in 2007. He added COO responsibilities for Aspirus Ontonagon in 2011 before being named CEO for both locations in 2016. During his tenure, Hauswirth oversaw the construction of a brand new clinic in Houghton, the implementation of a new electronic health records system and expansion and renovations to both the Aspirus Keweenaw and Aspirus Ontonagon Hospitals.
Hauswirth comes into his role at Superior National Bank with great insight into the organization, having served on the board of directors for both SNB and Keweenaw Financial Corporation (SNB's holding company) since 2013.
"We're very happy to bring Mike into the day-to-day operation of our organization," said Dave Vlahos, SNB's President and CEO. "His leadership and experience will help us as we position ourselves for growth in the future."
Prior to his stint in healthcare, Hauswirth started his career at D&N Bank as an internal auditor. He also held the roles of manager of consumer lending and vice president of retail loan operations as D&N transitioned to Republic Bank. Hauswirth totaled 12 years in banking before moving to Aspirus.
"Having spent several years on the board, I really like everything SNB stands for," said Hauswirth. "From the great people who work there to the hometown feel and the direction of the bank, I wanted to play a more integral part in its future. I'm excited to get started."
Hauswirth, who holds a bachelor's degree in business administration from Michigan Technological University, will oversee business, mortgage and consumer lending; electronic banking; deposit operations; trust; and marketing at Superior National Bank. Those department heads (Kate Brogan – electronic banking; Ross Cooney – business lending; Wes Frahm – marketing; Chris Gariepy – trust and financial services; and Kirsten Rinne – consumer and mortgage banking) will report to Hauswirth.