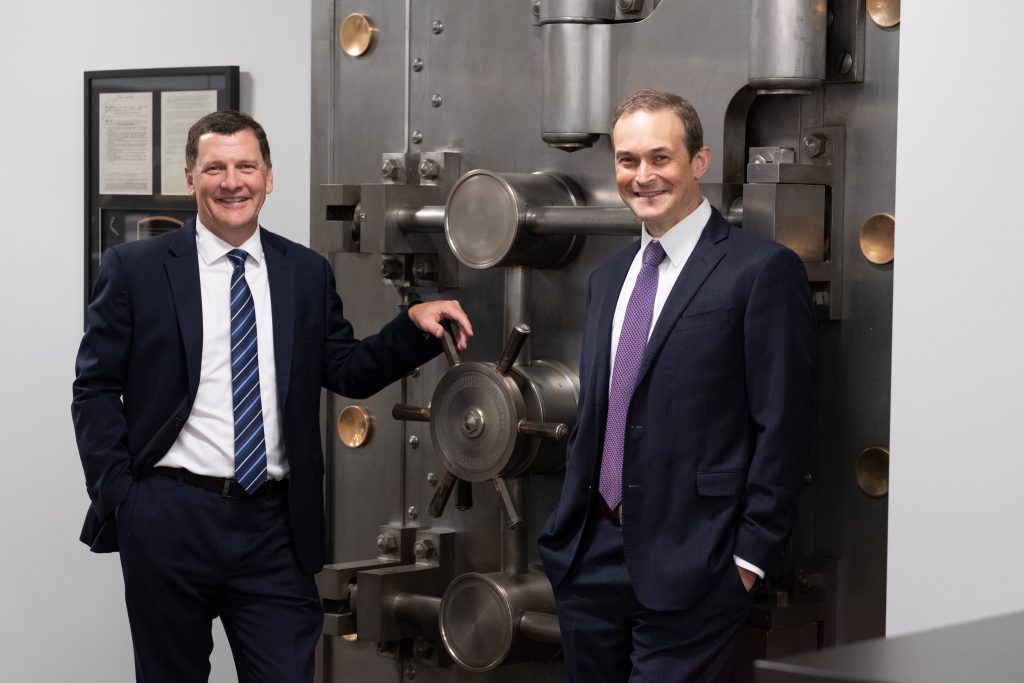 J. David Vlahos, Chairman and Chief Executive Officer (CEO) of Superior National Bank (SNB), has formally announced his retirement as CEO effective at the end of 2022. The Board of Directors of SNB has named Michael R. Hauswirth, currently President and Chief Operating Officer (COO) as his successor. Hauswirth will assume the role of President and CEO on January 1, 2023. Vlahos will transition to Executive Chairman of the SNB Board of Directors and remain on the Keweenaw Financial Corporation (KFC) Board.
Daniel Wisti, SNB and KFC Director says, "Dave has provided excellent leadership throughout his years as President and CEO, growing the bank's assets from $512 million to over $1 billion. He has done a tremendous job with succession planning and assembling our current management team. Dave's positive impact on our customers, shareholders, employees, and the communities we serve will be long-lasting. We are looking forward to having Dave as our Executive Chairman of the Board of Directors."
"We have excellent Directors and I'm excited about my new role as Executive Chairman of the Board," said Vlahos. "I look forward to working alongside Mike to ensure a smooth transition and to support the strategic initiatives of the organization."
Vlahos has been in banking for over 32 years, joining SNB in 1996. Throughout his banking career, he held several leadership roles including 14 years as President and CEO. Notable accomplishments under Vlahos' leadership include assembling an excellent team, strengthening credit quality, growing assets to over $1 billion, and acquiring Main Street Bank (MSB) in Southeast, Michigan. The successful acquisition of MSB entered SNB into new growth markets, diversified the organization geographically, provided expanded sources of income and has increased shareholder value.
Hiring Mike Hauswirth as the bank's COO in 2018, and appointing him as President in 2021, was part of a multi-year succession plan. "I couldn't be more supportive of the decision to name Mike as my successor," says Vlahos. "He is a strong leader with a proven track record of high achievement. He is just the person we need to guide the organization to new heights. With Mike at the helm of the team we have assembled, I am excited about SNB's continued prospects for success!"
Hauswirth returned to his banking roots in 2018 as Superior National Bank's first Chief Operating Officer. Previously, he spent 11 years in healthcare, most recently serving as Chief Executive Officer of Aspirus Keweenaw and Ontonagon Hospitals and five years on the SNB and KFC Board of Directors. Before Aspirus, Hauswirth spent 12 years in banking with Republic Bank and D&N Bank.
"Dave has dedicated 32 years of his life to banking, and I am very thankful to him for his significant contributions to SNB. Dave has been a great leader and mentor, and I am honored and humbled to be appointed his successor. I look forward to leading such a committed and talented team of bankers. Together, we will maintain the bank's community banking focus and build upon its proud history. I'm excited to work with Dave in his new role as Executive Chairman of the Board of Directors," said Hauswirth.
Headquartered in Hancock Michigan, Superior National Bank serves clients in the Upper Peninsula and Southeast Michigan regions and employs over 240 people. With assets over $1 billion, Superior National Bank provides individual consumers, businesses, municipalities, and corporations with a full range of banking services spanning lending, deposit accounts, online and mobile banking services, retirement plans and trust and wealth management services. For more information, visit our website www.snb-t.com. Member FDIC.