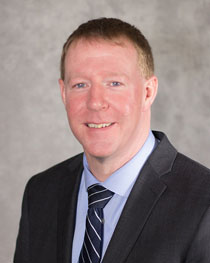 Superior National Bank is proud to announce the promotion of Brian Donnelly to Vice President/Director of Retail Banking. As the region's most trusted local bank, Superior National is continuously expanding its expertise to provide attractive products and services to every customer. In his new role, Brian will be responsible for leading the branch and mortgage teams in developing competitive products, and delivering exceptional service. He will also play a key role in ensuring a positive and easy customer experience at all Superior National locations.
"Brian brings a tremendous amount of energy and enthusiasm for Superior National and our customers", says Mike Hauswirth, Executive Vice President and Chief Operating Officer. "We are also thrilled about Brian's leadership with multiple community groups and events, which make him a great fit for this position" added Hauswirth.
Prior to accepting the position as VP/Director of Retail Banking, Brian was the Brokerage Program Manager for Superior National's Trust & Financial Services Department. Previous to that, he worked in various financial service roles. Brian holds a Masters of Business Administration from Grand Valley State University.
Founded in 1890, Superior National Bank is headquartered in Hancock and has nine locations across Houghton, Keweenaw and Baraga counties. The bank employs 150 people.