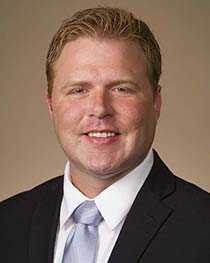 Superior National Bank is proud to announce that Greg Seppanen, CFP® has earned the CERTFIED FINANCIAL PLANNER™ certification. According to the CFP Board Website, Greg is one of three people in the Keweenaw area who has the CFP® Certification. Superior National is the only local bank with a CFP® on staff.
The CFP Board recognizes individuals who have met the rigorous experience and ethical requirements of the CFP Board. The exam covers the financial planning process, risk management, investments, tax planning and management, retirement and employee benefits, and estate planning.
CFP Board is a nonprofit certification organization with a mission to benefit the public by granting the CFP® certification and upholding it as the recognized standard of excellence for personal financial planning.
"We are thrilled with Greg's achievement. With a CFP® on our financial services staff of nine, Greg's leadership and expertise will be integrated into the ongoing success of all our client portfolios" said Chris Gariepy, Vice President / Trust & Financial Services Director. Greg Seppanen has over 10 years with Superior National Bank and is currently a Vice President / Senior Trust Officer.
Superior National Bank has the largest Trust & Financial Services team in the area specializing in Investment Management, Comprehensive Financial Planning, Trust & Estate Administration, and Retirement Services.
Founded in 1890, Superior National Bank is headquartered in Hancock and has nine locations across Houghton, Keweenaw and Baraga counties. The bank employs 150 people.