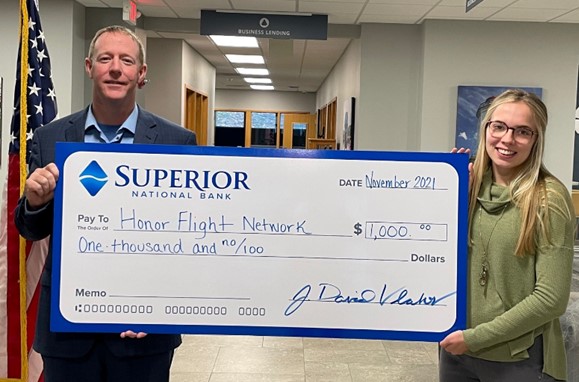 Following a special summertime program honoring Veterans, Superior National Bank made a $1,000 donation to the Upper Peninsula Honor Flight Network. The Honor Flight Network® provides Veterans a trip to Washington D.C. for a Tour of Honor commemorating their service.
"Our Veterans have given so much to help protect our country, this was a great way to show our support to them" said Brian Donnelly, SVP/Retail Lending Director. "Superior National is proud to support our community and is excited to bring our Veterans' special products and services that improve their lives" Donnelly added. Superior National Bank offers VA Guaranteed Home Loans for qualifying Veterans and Service Members to purchase homes with favorable terms and lower down payments.
For more information about our VA Guaranteed Home Loan Program, contact a lender or visit snb-t.com.
Headquartered in Hancock Michigan, Superior National Bank serves clients in the Upper Peninsula and Southeast Michigan regions and employs over 235 people. Superior National Bank provides individual consumers, businesses, municipalities, and corporations with a full range of banking services spanning lending, deposit accounts, online and mobile banking services, retirement plans and trust and wealth management services.