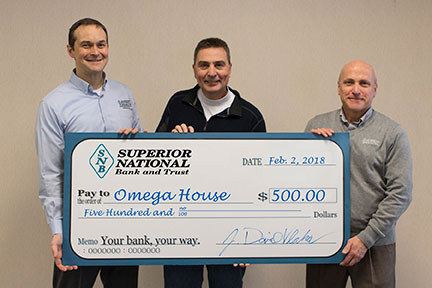 Superior National Bank employees combined to give away $2400 of their own personal funds to several local organizations recently. With money collected from its Casual for a Cause program, SNB was able to donate $500 to Omega House of Houghton, $500 to Copper Country Habitat for Humanity, $500 to Don't Do It Yourself of Houghton and Keweenaw Counties, $500 to Beacon House of Marquette, $200 to L'Anse Area Schools Booster Club and $100 each to Woodhaven House and Aurora House of L'Anse.
Omega House executive director Mike Lutz was pleased to accept the donation on behalf of his organization, which provides peaceful, home-like end-of-life care for terminally ill people. "SNB has a long history of supporting Omega House, even back to when we started," he said. "We are so appreciative of that support."
SNB employees Cindy Taavola and Matt Lutz are on the board of directors for Copper Country Habitat for Humanity as president and treasurer, respectively. The organization works in partnership with people in need to build and renovate decent, affordable houses, which are then are sold to them at no profit and with no interest charged.
Don't Do It Yourself (DDIY) serves as an emergency funding source for the people of Houghton and Keweenaw counties that are facing a financial hardship due to a medical crisis.
Beacon House becomes a home away from home for patients and families that travel across the U.P. to receive specialty medical care at U.P. Health System- Marquette and the Upper Peninsula Medical Center.
Woodhaven and Aurora Houses are both assisted living facilities.
SNB's Casual for a Cause program allows employees to dress casually with bank logo apparel on Fridays for an annual donation of $25. With more than 100 employees participating in the program, employees are able to make significant annual donations.
"We're thrilled to be able to give back to the community," said SNB President/CEO Dave Vlahos. "We have a very generous group of employees who are committed to serving this area, giving of both their time and resources to help deserving causes."