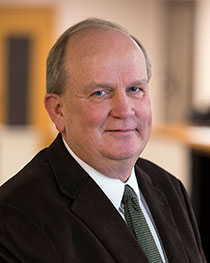 The banking industry has changed a great deal in 44 years. Just ask Steve Palosaari, Executive Vice President for Business Lending at Superior National Bank.
Hand-written transactions have been replaced by computers and visits to a branch can be replaced by mobile devices.
What hasn't changed is that banking is still about relationships. Ask anybody that has worked with Palosaari during his tenure.
"Steve's been the most trusted banker in the Copper Country for 44 years" said SNB President/CEO Dave Vlahos. "If you look at the bank's core values of teamwork, continuous improvement, excellence and accountability, he exemplifies each of them."
Palosaari began working at SNB in 1973 as a high school Co-Op student. He took a full-time job as a teller in May of 1974. By 1977, he was a lender, a role he held in various capacities until his retirement.
"The customers and my fellow employees made it enjoyable to come to work every day" he said. "SNB serves the community in a lot of different ways. That's probably the aspect of the bank I like the most."
The Chassell, Mich., native, held the following titles during his tenure: teller; loan collections manager/student loan manager; assistant cashier; consumer, mortgage and commercial lender; security officer; VP/lending; human resources director; senior VP/lending; and executive VP/business lending.
"There's no way anyone can survive with one employer for four decades without learning how to transform and improve," said Vlahos. "Steve's done a great job of adapting to changes in our industry to regulation and technology while still remaining true to our values."
Palosaari leaves behind a fully staffed business lending department at SNB which includes five full-time lenders, a credit department and a staff of assistants.
"Our department is awesome," said Palosaari. "We have the best business lending team in the area working together to do what's best for the customers. The bank is set to go for the future."
As for his personal future, Palosaari won't be sitting idle. He has 35 registered highland cattle on his Chassell farm which he raises and takes to show at national competitions. He also raises sheep for the Houghton County Fair 4-H lamb project. He volunteers as a board member for the Upper Peninsula State Fair, Houghton County Fair, Little Brothers Friends of the Elderly and Lions Club of Chassell.
Palosaari's final day of a 44-year career will be Friday, Mar. 2.